Hempfield 44 TWP 42: Game wrap
Written by: Dell Jackson on Saturday, January 11th, 2020
Hempfield 44 TWP 42
Jan 10, 2020
LLhoops live-streamed this game so you can pick and choose what you want to watch- including the game winning bucket with less than 1 second on the clock. We picked this game early before the season. I'm sure both coaches/teams would want to have more 'W's' than they had coming into the game, but it is Hempfield/TWP. This seems to be the longest, most intense rivalry in the LL especially in the big school division–ok Lebanon/Crest in Lebanon Co counts too : )
Three's started off the game- yet again for LLhoops viewing anyway. JT Weaver popped for TWP and Conner Elslager hit 2 for the Knights. TWP's bigs scored the next 6 points, but Hempfield finished the scoring on a bucket at the end of the quarter: TWP 11 Hempfield 10 after one.
The second quarter provided little in terms of scoring. Each team worked the ball around in addition to a bunch of missed shots. Around the 2 min mark, TWP hits a three ball by Zach Hartz. Ryan Hilton countered with a layup off a nice pick pocket move on the defensive end. 19-15 TWP at the half.
TWP would stretch the lead to 29-21 lead mid-way thru the 3rd. Hempfield, again, would come back. TWP's Mickey Stokes, 6'4" sn, got an old fashioned 3 point play, but the Knights popped a Hilton three ball and a big-time tip by Davion Edmond-Greene, 6'4" jn. Edmond Greene would prove pivotal in this game. His defensive presence – read blocked shots- fired up the Knights and finally slowed down the TWP bigs. A jumper by JT Weaver for TWP would end the quarter at 34-30 Streaks.
Think we would get a lot of points in this quarter? Nah…chess match more like it. A drive by Hilton and a bucket by Hempfield's Daniel Sears, 6'4" jn tied it up at 34. Game on! Edmond-Greene smacks out a shot by TWP, keying a drive and bucket by Hilton. 38-36 Hempfield. The place is rocking. Zach Oldac, 6'3" sn, scores on a post move. Konnor Axe sores on a steal and layup for the Kinghts. Z. Oldac scores off a goal-tending by Edmond-Greene. Hilton makes 2/2 from the line, only to have Oldac answer with 2 pressure packed fouls of his own.
Hempfield has the ball….goes for the last shot. Hilton drives in and is met by multiple TWP defenders…the ball goes off the left side of the backboard and Daniel Sears puts in the follow.
Game over. 44-42.
Stats:
Rebounds: Hempfield 19. TWP 21
Turnovers: Hempfield 12. TWP 8
Blocks: Hempfield 5 TWP 2
Points:
Hempfield: Ryan Hilton 13
TWP: Zach Oldac 17, Mickey Stokes 12
Player of the Game- Ryan Hilton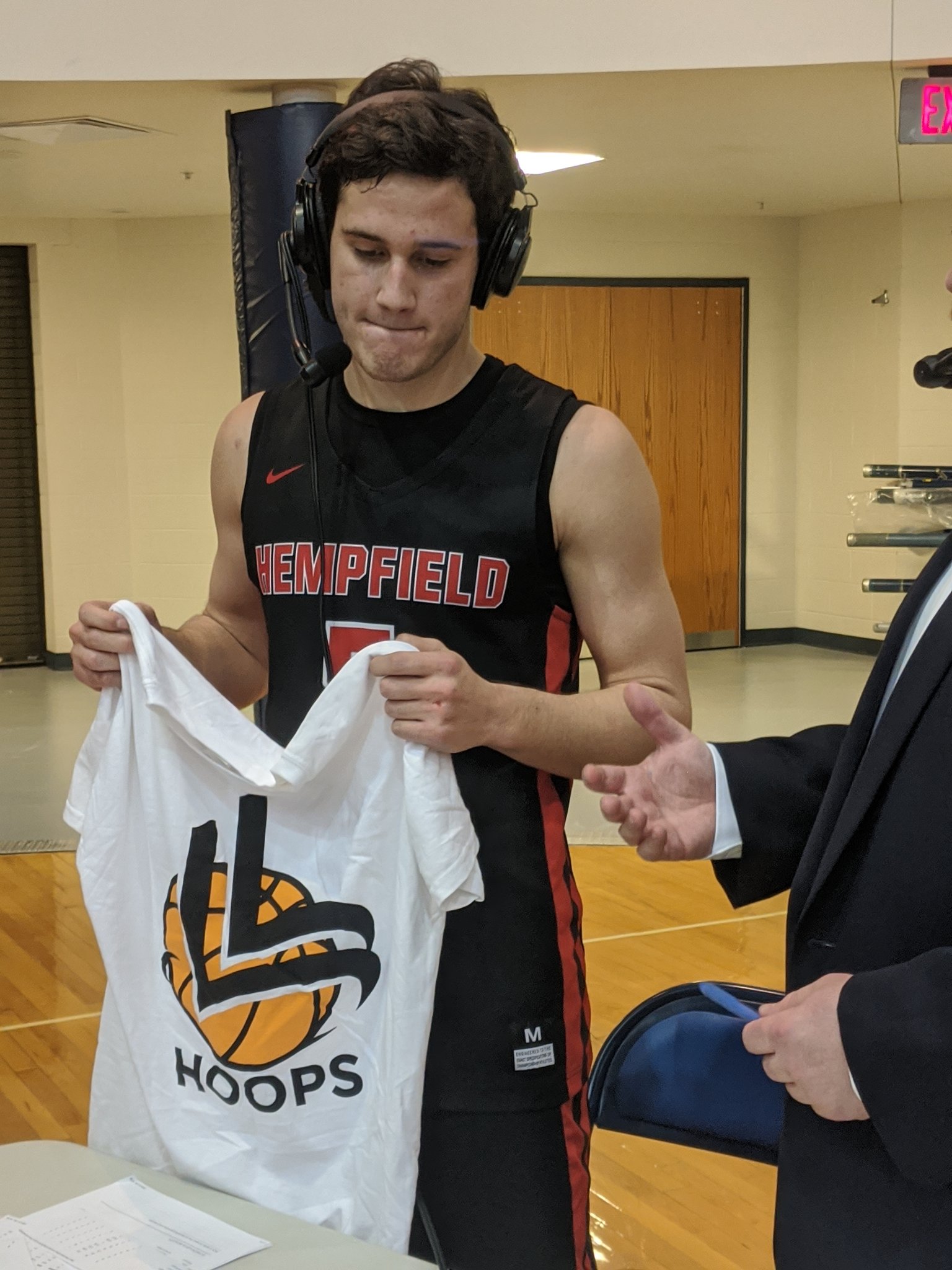 Sidelines…Much thanks to TWP's staff for helping LLhoops get settled in tonight and a promo at the game… A nice crowd tonight and they were into singing the anthem as well- pretty neat.…Please check out the replay- wonderful picts, commentary throughout the game. The live-streams are getting better for sure- multiple camera angles, sponsor promos, and of course player of the game. …New look for the website- still a work in progress so hang in with us as we tweak things. …Had some discussions with the refs before the game on what is a charge or not….finally, LNP has a special going on for it's online subscriptions – $2 gets you 20 weeks. Cheap as a cup of coffee….and it takes you thru hoops season. LLhoops has a very special relationship with LNP. Very special…if you are not a subscriber, now is the time 🙂
Follow LLhoops on Twitter @LLhoops
---
Leave a Reply