District 2 Boys 3A Quarter-Final Recap (Carbondale vs. Lakeland)
Written by: Jon K on Wednesday, February 23rd, 2022
February 22, 2022
Inspired Carbondale Effort Gets Win Over Lakeland
Carbondale 54, Lakeland 45
By Jon K.
SCOTT – Not all high school playoffs roads are mapped out to Hershey and not all jubilant celebrations will end up on an arena floor amidst a medal ceremony. Mixed in, and occasionally lost among the bracketology frenzy this time of year, is the occasional hoops matchup that validates why we all love this sport so much. On this night, those playoff roads were not interstate highways but countryside pathways connecting rival schools located 7 miles apart. For host Lakeland and their opponent Carbondale, the numbers coming into the game were not impressive – a combined 13 overall wins. The Chargers were winless in league play and had been defeated twice by the Chiefs. But a late season start due to a Covid pause also gave the youthful Chargers some time to find their chemistry. This one had everything you could want in a district playoff, an incredible atmosphere with vocal student groups along with an outstanding effort and intensity on the court.
Carbondale stormed out to an 11-0 lead via triples from Jay Allen and Killian Bannon before Tyler Uram got Lakeland on the board. Baskets by Bannon and Brian Salitsky had the visiting Charger fans in a frenzy heading into the second quarter with a surprising 15-2 advantage. Carbondale used tenacious defense and controlled the boards on both ends of the floor as they dominated the opening frame.
The second period featured more of the same. After Lakeland was able to trim the deficit to 17-7, Carbondale again used their quickness to create turnovers and get a pair of fast break layups from Vinny DePalma to jump back to a 23-9 lead before a layup by Tony Donato gave the Chargers a 25-9 lead at the break.
Lakeland came back onto the floor with a different level of intensity in the second half. After getting out-hustled and out-played by their opponent in the first 16 minutes, the Chiefs buckled down and used a 9-1 run to get this one back into single digits, 26-18, as they got a steal and layup and triple from Billy Hazelton followed by a steal and pair of layups from Antonio Hazelton. After regrouping and holding off the rally, the teams traded baskets for much of the period. Billy Hazleton canned a triple to cut it to 30-25 and later a trey by Joey Dunstone brought the Chiefs within four points, 34-30. But, again, Carbondale showed a resiliency to not get flustered as they went on a 7-0 run to close the period (leading 41-32), highlighted by a nifty 3-point play by DePalma on a 2-on-1 fast break.
After a Bannon basket gave the Chargers a 46-33 lead, the Chiefs got a drive by Antonio Hazelton followed by a pair of triples, also by him. Two free throws wrapped around a basket by Bannon cut it to 48-43 with 3 minutes remaining. A pair of free throws by Antonio Hazelton a minute later made things interesting, a one-possession game (48-45). But, in the end, Carbondale was able to use some ball control and put this one away with a basket by Donato and slam by Bannon (plus a pair of free throws) to notch the win, 54-45.
Carbondale was led by Killian Bannon and Tyler Donato who each scored 14 points. Jay Allen added 10. Lakeland was paced by Antonio Hazelton who netted 24 points. Billy Hazelton contributed 10 points.
With the win, the Chargers advance to Friday's District 2 Boys AAA Semi-Finals as they visit top-seeded Holy Redeemer (19-4).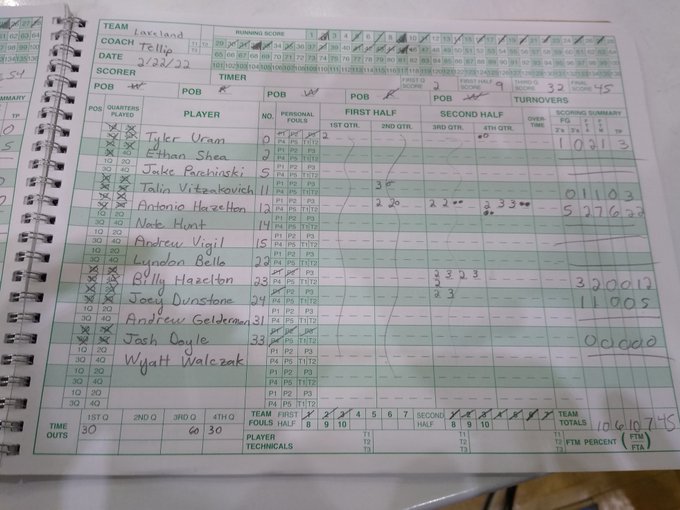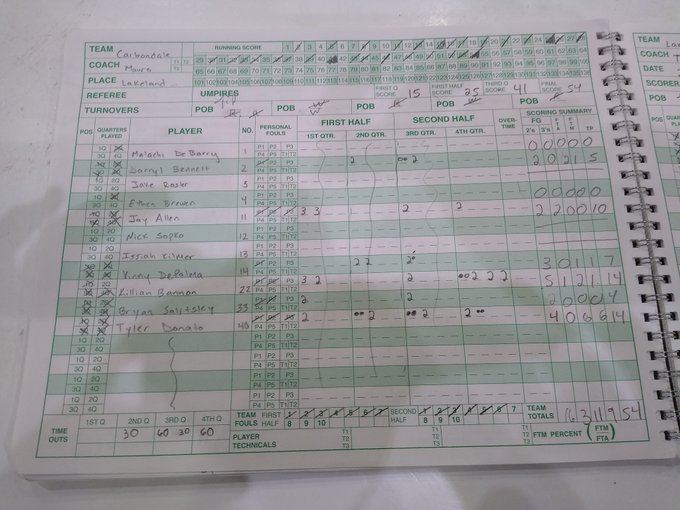 Follow LLhoops on Twitter @LLhoops
---
Leave a Reply