District 2 Boys 3A Second Round (Holy Redeemer vs. Executive Education)
Written by: Jon K on Sunday, March 13th, 2022
March 13, 2022
Defense Keys Royals Overtime Victory
Holy Redeemer 66, Executive Education 49 (OT)
LEHIGHTON – While many fans will long remember the avalanche of free throws made by the Royals in the closing minute of overtime (9 of 10, including 6 resulting from three technical fouls called on the Raptors), it was their stellar defensive effort at the beginning of the extra period that gave Holy Redeemer their biggest lead of the game. Steals by Zach Perta, Darryl Wright, and Justice Shoats lifted the Royals to a 55-49 advantage. It was the start of a 17-0 run to seal their 66-49 victory and earn a PIAA Boys 3A Quarter-Final round game against District 12 Champion Math, Civics and Science (21-8) next Wednesday.
The venue for this matchup was the Lehighton Elementary Center, a gem of a facility that was at near capacity for this anticipated showdown. The three-year-old gym has seats on one of side of the court and a stage on the other. This modern design was well-planned and easily accessible from the PA Turnpike (and maybe the complimentary pre-game pizza and iced tea for the media helped earn them an extra half-star rating).
Executive Education Academy, the District 11 Champion, came into this matchup with a talented roster that has Division 1 caliber talent. The Raptors clawed their way out to a terrific start taking a 9-3 lead after getting a floater by FSU-bound 6-6 senior Jeremiah Bembry, a slam by 6-11 junior Moustapha Sanoh, triple by senior guard Jahil Schneck, and baseline floater by Drexel-bound 6-6 senior Kobe Magee. Holy Redeemer did not panic as they got a flurry of scoring from junior guard Darryl Wright who made a nifty scoop layup and another layup after his steal. Magee would respond with a slam dunk for the Raptors before senior guard Justice Shoats hit a jumper to bring the Royals within 11-9 after the first period. This one was shaping up to be a good matchup.
The second quarter featuring several lead changes. The Raptors jumped out to a 7-point lead (16-9) following a basket by Magee and triple by sophomore guard Rylan Muniz. Senior 6-5 center Matt Prociak would bookend a pair of scores inside around a slam by Shoats and triple by junior guard Zach Perta to put HR back into the lead, 18-16 (a 9-0 run). However, back-to-back smooth treys by Schneck would give the Raptors a 22-18 edge. Back came the Royals with another triple by Perta and pair of free throws by Shoats wrapped around a free throw by Magee to knot things up at 23 with 1:43 remaining in the first half. The Royals left the floor riding some momentum (27-23 lead) after another pair of free throws by Prociak and driving score by Shoats.
The third quarter saw the Royals holding serve as both teams traded baskets throughout. Early in the period, 6-4 junior forward Jeff Kozerski would leave the game with a cut below his eye (he would later return). Kobe Magee, provided virtually all of his team's offensive punch, netting 14 of their 16 points in the stanza. He would launch a triple before the buzzer to bring his team within a single point, 40-39, heading into the final eight minutes.
Prociak would tip in a shot to start the quarter before the Raptors went on a 7-0 run (Magee drive, triple by 6-4 freshman Gabe Hornberger off HR turnover, and drive by Bembry) to take a 46-42 lead. The Royals regrouped after a timeout behind a spinning layup and triple by Prociak wrapped around a free throw by Bembry to tie the game at 47. Schneck would then can a pair of free throws from the charity stripe with 3:38 remaining before Shoats would hit a driving shot to tie the game again, at 49. Prociak would pick up his 4th foul before the Raptors decided to work the clock. With 1:24 left, Bembry would pick up his 5th on an offensive charge giving possession back to HR. They would get the ball to a wide-open Jacob Hunter in the corner, but his shot missed giving Executive Education the ball with 4.1 seconds left. A foul by HR with 2.2 remaining gave the Raptors a shot from midcourt. While there was definitely some contact during the ensuing play, there was no whistle and this one was headed to overtime, tied at 49.
That set the stage for the HR defense to take over. They scored off of three consecutive steals (Shoats two free throws, Prociak from underneath, and another no-look shot from under the basket also from Prociak) to go up 55-49. Then, with 56 seconds left, Prociak got fouled, followed by a technical foul on Sanoh, and then two more technical on the Raptors head coach. In all, HR went to the line for 8 consecutive free throws, making 7 – and keeping possession. Shoats added an exclamation mark on this victory with a breakaway slam to secure the 66-49 win (overall, a 17-0 run in the extra stanza).
Holy Redeemer was led by Justice Shoats with 27 points. Matt Prociak netted 21 and Zach Perta added 12. The Royals were 18 of 25 from the charity stripe.
Executive Education Academy was paced by Kobe Magee with 23 points. Jahil Schneck contributed 11.
With the win, Holy Redeemer earns a PIAA Boys 3A Quarter-Final round game against District 12 Champion Math, Civics and Science (21-8) next Wednesday (site/time TBA).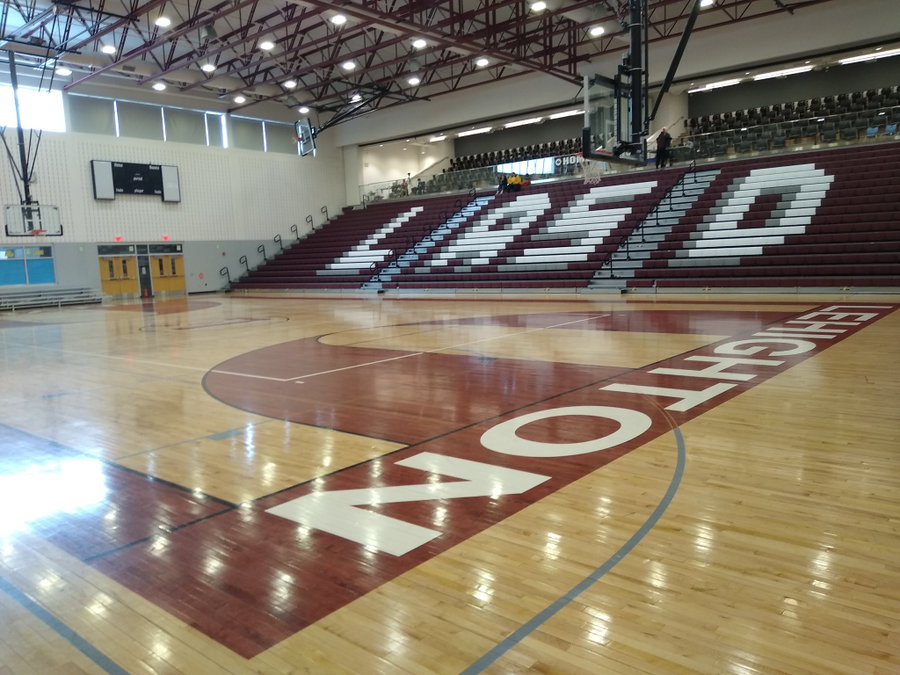 Follow LLhoops on Twitter @LLhoops
---
Leave a Reply