District 2 Boys 4A Quarter-Final Recap (Scranton Prep vs. Wyoming Area)
Written by: Jon K on Wednesday, February 23rd, 2022
February 23, 2022
Cavaliers Use Third Period Burst to Roll into Semis
Scranton Prep 66, Wyoming Area 49
By Jon K.
SCRANTON – Scranton Prep's ability to create some early turnovers and consistently get to the basket gave the Cavaliers some separation on the scoreboard. But Wyoming Area showed plenty of grit, staying within striking distance, that is until midway through the third period. Then, coming out of a timeout, an errant pass by the Warriors got intercepted by Robert Rossi. The senior forward took it down court but passed on the opportunity to slam it home. His soft lay-in was part of a 20-2 run over the next four minutes that secured his team's place in the District 2 Boys AAAA Semi-Finals (at Mid Valley on Saturday) with a 66-49 victory.
A layup by James Pettinato and three-point play by Andrew Ferguson got the Cavs out to a 5-0 start. The Warriors responded with back-to-back jumpers by Dane Schutter and Evan Melberger before another three-point play by Prep, this time by Rossi which gave the home team an 8-4 edge. They extended it to 12-4 following a turnaround layup by Matt Cobb and inside basket by Kellen Casey. Schutter then got a 3-poiont play via a nifty spinning layup before Pettinato gave Scranton Prep a 14-7 lead after the first period. The Cavs were running the floor well.
In the second quarter, Matthew Little got Wyoming Area back within four points (14-10) with a corner triple. Back-to-back scores by Cobb wrapped around a Melberger layup set the stage for the game's most exciting sequence. The Warrior's got some momentum on their side with scores by Tyler Sciandra, Schutter, and Lukas Burakiewicz to knot the game at 18 with 4:50 left in the quarter. That seemed to get Prep's attention and they responded with an 11-0 run (including 6 points from Rossi) to go up 29-18. The Warriors were able to cut it to 29-22 after four free throws by Sciandra, but a steal and full court drive by Noah Sorenson plus a basket just before the buzzer by Cobb gave the Cavaliers a 33-22 advantage at the break.
The third stanza began with a spinning layup by Cobb and putback by Sorenson wrapped around a pair of free throws by Melberger to give the Cavs a 37-24 lead. A driving score by Sciandra plus a pair of free throws would bring the Warriors within single digits (37-28) but that's as close as they would get. A Rossi drive to the hoop would be the start of a 20-2 run by the Cavaliers over the next 4 minutes and send Prep into the final quarter with a commanding 57-30 lead.
While the outcome of this one was evident, the gutsy performance by Wyoming Area senior guard Evan Melberger needs to noted as he netted 8 straight points (a trey, a terrific drive for a layup, and hitting three free throws after getting fouled on a triple). Scranton Prep went on to secure the 66-49 victory.
Scranton Prep was paced with four players reaching double figures, led by Noah Sorenson with 14 points. Robert Rossi added 13, Matt Cobb 12, and Andrew Ferguson 11. The Cavaliers were 7 of 10 from the charity stripe.
Wyoming Area was led by Evan Melberger with 14 points. Sophomores Dane Schutter (11 points) and Tyler Sciandra (10 points) combined for 21 points. The Warriors converted 13 of their 16 free throw opportunities.
With the victory, Scranton Prep will move on to Saturday's District 2 Boys AAAA Semi-Finals where they will visit #2 seed Mid Valley, a 58-24 winner over Lake-Lehman.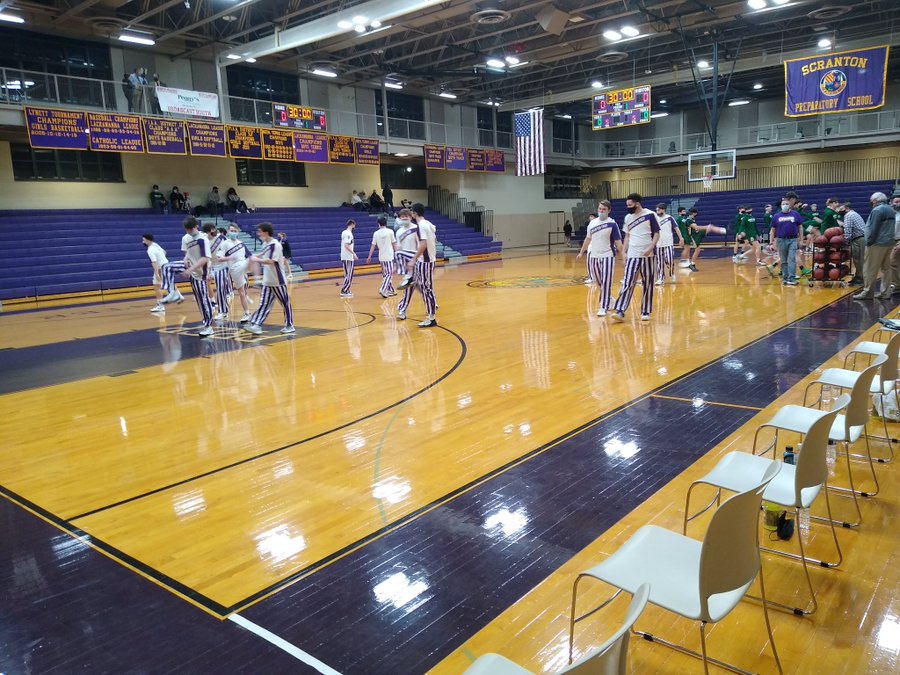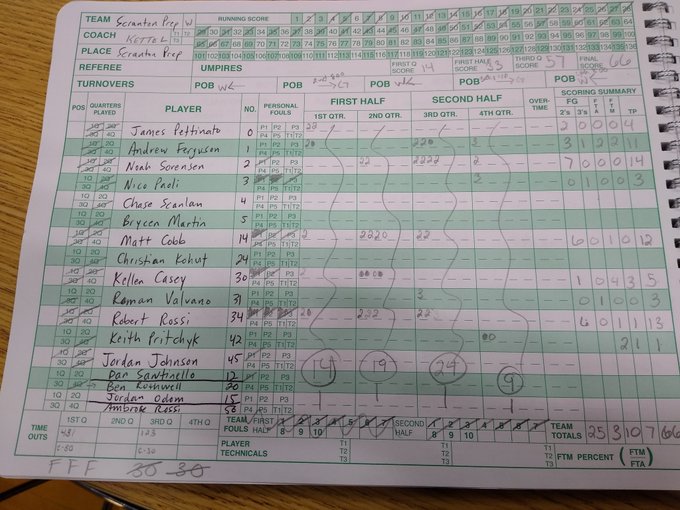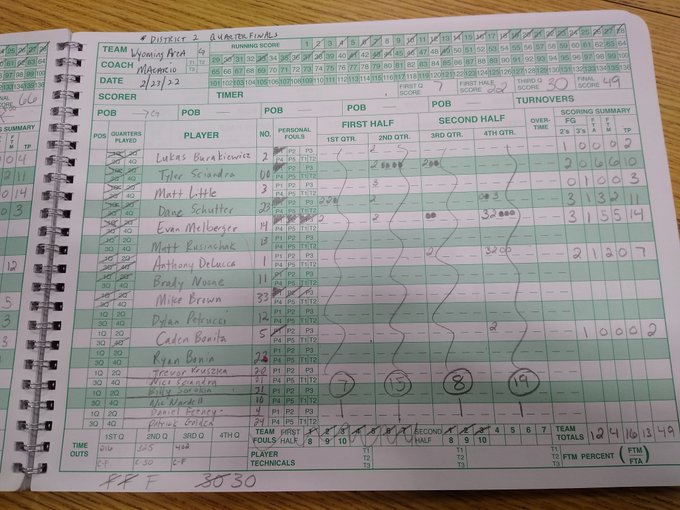 Follow LLhoops on Twitter @LLhoops
---
Leave a Reply