District 2 Boys Game Recap (Crestwood vs. Hazleton Area)
Written by: Jon K on Sunday, February 9th, 2020
February 8, 2020
Petrosky Keys Crestwood Rally to Upend Cougars
Crestwood Comets 56, Hazleton Area Cougars 53
HAZLETON – While the year and participants may change, rivalries are the best part of high school hoops. There is always an extra level of intensity in the air because these games mean so much to the school communities. For Hazleton Area and Crestwood, who have perennially been at the epicenter of late season division championships, their latest matchup would reward the victor with a part of an incredible 4-way division logjam atop the Wyoming Valley Conference Division 1 race. While the Comets would struggle from the free throw line all evening, only hitting 10 of 26 opportunities, it would be the long-range sharpshooting of Ryan Petrosky during a critical third period stretch which prevented the Cougars from pulling any further away when it seemed as though momentum was on their side. It was the start of a 17-5 Crestwood run to put the Comets seemingly in control, 50-44. But, in the closing minute, trailing by 6 points, the Cougars would claw their way back to make it a one possession game, but their desperation corner triple to send it to overtime was off target at the buzzer. It was yet another classic chapter between these longtime rivals as the Comets prevailed, 56-53.
Crestwood cashed in on a few turnovers to take an early 10-2 lead. Hazleton Area responded with layups from Angel Cruz and Brett Antolick followed by pair of free throws and another basket by Cruz to knot it at 10. After ties at 12 and 14, Mike Zaleski would hit a triple for the Comets followed by baskets by Andrew Vayda (Hazleton Area) and Petrosky to give the Comets a 19-16 lead after the first period.
In the second quarter, Crestwood grabbed a five-point lead (23-18) before a 3-point play from Christopher Garcia and score by Vayda tied it at 23. A triple by Garcia gave the Cougars a 26-23 lead as they completed a 10-4 run. The Comets then got a pair of scores from Jacob Zaleski to go back up, 27-26, before Vayda would be called for a two-shot foul and subsequent technical on the play with 2:13 left in the half. A potential devastating game-changing call only resulted in a single point on the scoreboard. The half ended with Concepcion and Brad Papura trading baskets as the Comets went into the locker room with a 30-28 lead.
The Cougars began the second half with an 8-0 run as Vayda got things going with a nifty steal and pass up court for a Cruz putback followed by his own driving scoop layup and 36-30 lead. The rest of the stanza featured a barrage of triples, three by Petrosky, as the Comets inched their way back. Papura would hit a shot at the end of the period to lift the Comets back into the lead, 43-42, finishing the quarter on a 10-3 run.
After Vayda gave Hazleton Area their last lead of the game, 44-43, Crestwood would get a triple from Jacob Zaleski and driving layup from Marcus Vieney to go up 48-44. The Comets would then get scores from Paul Feisel and Jacob Zaleski to take a 52-45 advantage with 1:54 left. Petrosky would add another free throw to make it 55-49 with 56 seconds left. The Cougars would then get a driving score from Vayda and pair of free throws from Garcia to make it 55-53 with 11 seconds left and send their fans into a late frenzy. The Comets would hit another free throw with 9.6 ticks left. Hazleton Area's triple at the buzzer to tie the game was off the mark as Crestwood prevailed 56-53.
The Comets were led by Jacob Zaleski with 17 points while Ryan Petrosky added 14.
Hazleton Area was led by Andrew Vayda with 13 points while Dewin Concepcion hit 11 points, and Angel Cruz added 10 points.
The Comets will await the announcement of their Wyoming Valley Conference Division 1 playoff opponent on Sunday. Hazleton Area will have a lengthy layoff as they await the start of the District 2 AAAAAA playoffs.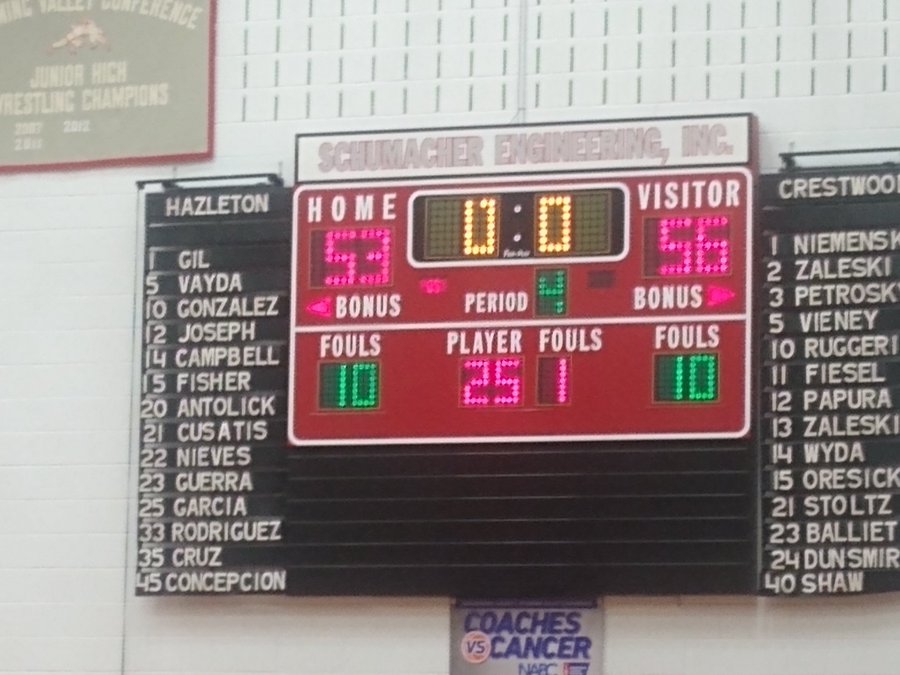 Follow LLhoops on Twitter @LLhoops
---
Leave a Reply