District 2 Boys Game Recap (West Scranton vs. Delaware Valley)
Written by: Jon K on Wednesday, January 22nd, 2020
January 22, 2020
Invaders Roll Over Warriors
West Scranton 49, Delaware Valley 27
WEST SCRANTON – After neither team could get on the board through the first two minutes of the game, West Scranton would get a pair of scores by Cayden Merrifield off Delaware Valley turnovers plus a 5-point spurt by Brandon Barnes to take an 11-4 lead. A three-point play by Jackson Shafer narrowed the gap before Nick Forsette hit a layup before the buzzer for a 13-7 West advantage heading into the second period.
The Invaders then used a combination of playing tenacious defense, some icy cold shooting by the Warriors and an untimely technical on the Del-Val bench to go up by 13 points (20-7). Approaching the break, a triple by Ryan Doherty and basket by Shafer wrapped around a Forsette score kept the deficit at ten points, 24-14.
The third quarter featured a rally from the Warriors as they got a pair of scores by Shafer (including a nifty turnaround) and a layup by Mark Cavallaro to cut it to 26-20. West Side responded with a momentum-killing pair of quick triples by Londall Wright and Merrifield. It was the start of a 14-0 run for the Invaders which gave them a commanding 40-20 lead early into the final stanza. The starters would come out of the game as the Invaders secured the 49-27 crossover victory.
West Scranton placed thee players into double digit scoring led by Cayden Merrifield with 17 while Londall Wright and Nick Forsette each added 10. Delaware Valley, coming off an impressive effort the night before against Scranton Prep, was led by Jackson Shafer with 13 points.
Coaches vs. Cancer Suits and Sneakers Week continues throughout District 2.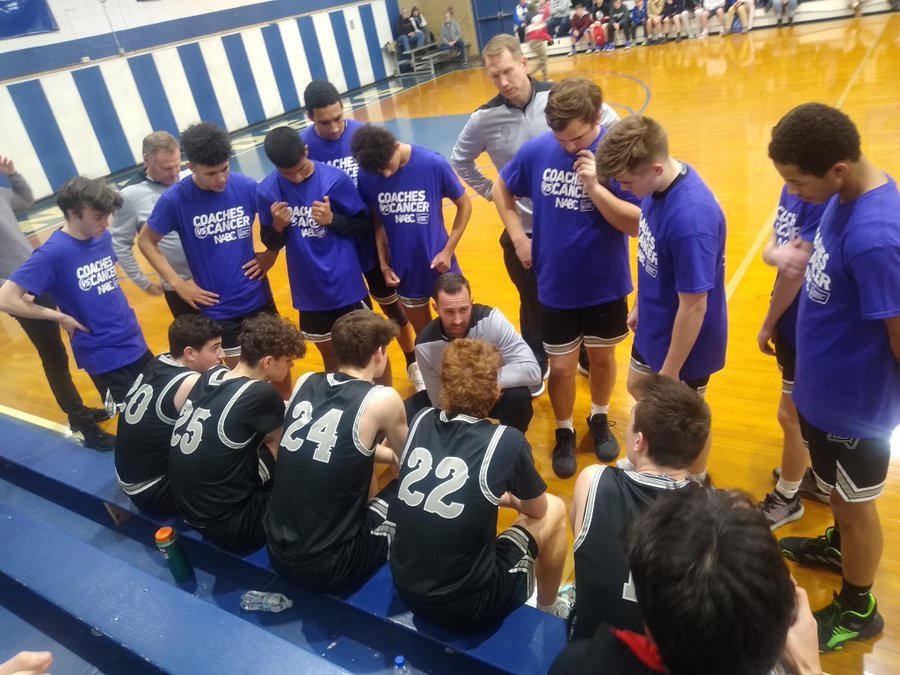 Follow LLhoops on Twitter @LLhoops
---
Leave a Reply