District 2 Boy's Hoops Column (January 30)
Written by: Jon K on Thursday, January 30th, 2020
Welcome Back to the Neast Beat !!!
As the regular season heads toward the finish line, discussion begins to focus on the upcoming District 2 playoffs, especially as teams continue to lock in their postseason reservations. We'll take an early glance at the top seeds in each classification. But first, the races to secure division championships are heating up throughout the Lackawanna League and Wyoming Valley Conference. Play ends for WVC teams next week (2/7 for girls, 2/8 for boys) as each division winner and runner-up will then prepare for the conference championship semi-finals which will take place the following week. Lackawanna League teams will see regular season action run through February 13 as there is no overall league championship playoff for those teams. Today's column will look at the District 2 Boys races.
Kobe's Lasting Impact
I was at the grocery store Sunday afternoon when I received a text from my son at college asking whether I heard the news about Kobe. I had not, but over the next half-hour or so, everything on that shopping trip seems to have been a bit of a blur as I searched for details online. My apologies to anyone who had to deal with both a crowded store and navigate around me. While admittedly a high school and college hoops fanatic, the NBA has never held the same interest level. But this was different, this was Kobe Bryant. And my lasting memories of him were etched from a single event so many years ago. When I got home, I called my son who was also having difficulty processing what had happened, all those lives gone, including Kobe's daughter. I decided to share one of my most treasured hoops memories – seeing Kobe play in high school. Somehow, out the hundreds of "dad" stories, this one never got dusted off, but he was eager to know the details. It was a PIAA playoff game back in March of 1995 when a superb edition of the Hazleton Area Cougars was looking to get back to Hershey after losing the state championship two years earlier to Erie Prep. There were several playoff roadblocks for that team, including a monumental date with the Kobe Bryant-led Lower Merion Aces at a sold-out Bethlehem Liberty gym. Kobe was nothing short of spectacular that day scoring 33 points, but the Cougars somehow found a way to recover from a hurried, missed layup at the buzzer to prevail 64-59 in overtime. What also stuck with me all these years was that as Hazleton Area began to wildly celebrate near their bench, there was one Lower Merion player caught in the middle of all of it. It was #33, and he was purposely headed directly into the jumping mass to congratulate the Cougar players. To this day, it remains one of the most incredible examples I've witnessed of youthful maturity in showing class and sportsmanship. And that's what Kobe represented throughout his career. My next call on Sunday was to my 88-year old dad who has been my co-pilot on so many memorable games, including going along with me on that playoff trip 25-years ago. We enjoyed reminiscing about the game like it was yesterday. So, Kobe's impact, for me, connects family generations, and for that I'll always be grateful.
Prior to Hazleton Area's non-league game against Williamsport on Monday, the Cougars took a few moments to pay tribute to Kobe given by their public address announcer Bruce Ellis who was the color analyst for the WAZL radio broadcast 25 years ago. A link to that tribute video is below.
Streaking in January
Several District 2 Boys' teams are wrapping up the month on a roll.
Wyoming Seminary (15 wins in a row)
Lakeland (6 wins in a row)
Mountain View (6 wins in a row)
Dallas (5 wins in a row)
Riverside (5 wins in a row)
Scranton Prep (5 wins in a row)
Holy Cross (4 wins in a row)
All-Time Scoring Marks Set
On Saturday, a pair of standout Lackawanna League seniors broke all-time scoring marks at their schools. It's an amazing accomplishment, but both doing it on the day made it all the more special. Zachary Rovinsky from Western Wayne broke the previous record of 1,457 points set by Dave Andreychik in 1979. And Elijah Rosenthal from Wallenpaupack surpassed the 1972 record set by Jeff Maydosz with 1,290 points.
Wyoming Valley Conference Playoff Dates
This year, with only two divisions in the Wyoming Valley Conference, the division champion and runner-up will advance to the conference semi-finals. The pairings will match the Division 1 winner against the Division 2 Runner-up and the Division 2 winner against the Division 1 Runner-up. The Girls' semi-finals will be on February 13 at Lake-Lehman while the Boys' semi-finals will be at Pittston Area on February 14. The championship games will be played at Berwick Area on February 15. All doubleheaders will begin at 6 pm with (hopefully) ample time for crowds to filter in and out of the venues before beginning the second games.
Coaches vs. Cancer Surpasses $2,000,000
The district -wide effort for NEPA Coaches vs. Cancer Suits and Sneakers Week continues with a few more events through this week. Now in its 12th year, the grand total has eclipsed the $2,000,000 mark. Absolutely incredible.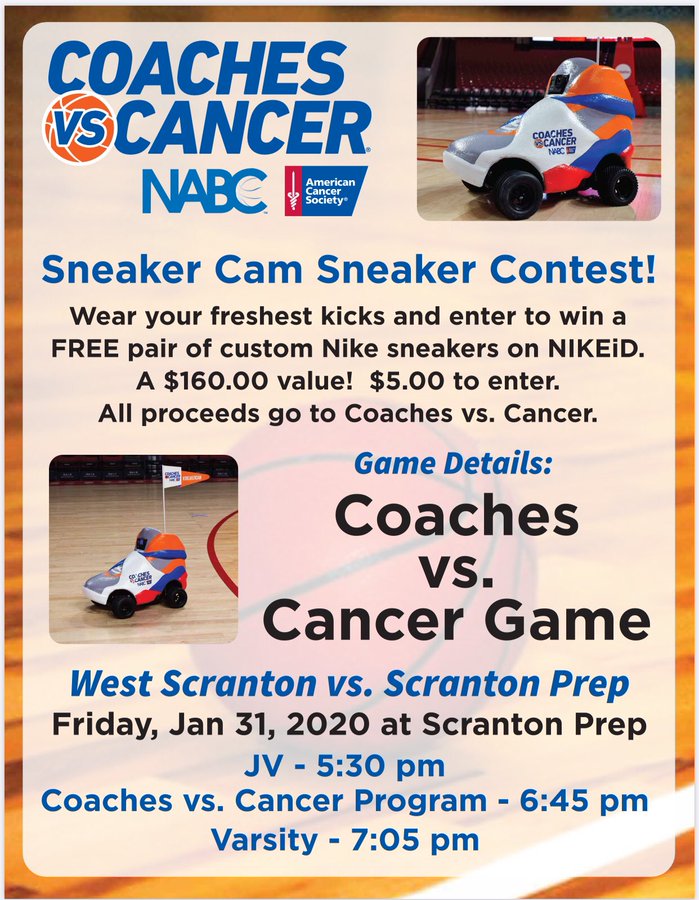 Wyoming Valley Conference Boys Division Races
DIVISION 1
Hazleton Area (9-1)

Dallas (7-3)

Crestwood (7-3)

Pittston Area (7-3)

Wilkes-Barre Area (6-4)

Nanticoke Area (2-8)

Wyoming Valley West (2-8)

Berwick (0-10)
Hazleton Area regrouped from a stinging loss to Williamsport Monday with a 68-37 win over Wyoming Valley West to maintain the Cougars two-game lead over Dallas, Crestwood, and Pittston Area. The Patriots knocked off Wilke-Barre Area with a big second half, 47-38, to stay in the 3-way logjam for second place. The Cougars remaining four games include all four teams currently trailing them. On Friday, they host Pittston Area in a key match-up while Dallas entertains Wilkes-Barre Area. Next Tuesday, there are another pair of pivotal games as Dallas visits Hazleton Area and Wilkes-Barre Area heads to play Crestwood. Things could still get really interesting here.
DIVISION 2
Wyoming Seminary (10-0)

Holy Redeemer (9-1)

Tunkhannock (7-3)

Hanover Area (6-4)

Wyoming Area (3-7)

Lake-Lehman (3-7)

Northwest Area (1-9)

MMI Prep (1-9)
Wyoming Seminary and Holy Redeemer appear headed for a regular season ending showdown rematch on the Blue Knights' court. But first, plenty of hoops straight ahead as teams must take care of business. The Blue Knights remained perfect with a 75-42 win over Lake-Lehman Tuesday night. Holy Redeemer kept pace with a 65-35 victory over Northwest Area. Tunkhannock continues to have a fine season and the Tigers remain in the race along with Hanover Area. On Friday, Holy Redeemer hosts Tunkhannock while Hanover Area visits Wyoming Seminary. On Tuesday, Sem travels to MMI Prep, Holy Redeemer visits Lake-Lehman, and Tunkhannock visits Hanover Area in what could be an elimination game for either team.
Lackawanna League Boys Division Races
DIVISION 1
Scranton Prep (8-1)

Abington Heights (7-2)

Valley View (6-3)

Scranton (3-5)

West Scranton (3-6)
The week began with Scranton Prep tied for first place with Valley View (both at 6-1). The Cavaliers got a last second 61-60 win over Western Wayne on Tuesday while Valley View dropped a 48-41 loss to Division 2 frontrunner Wallenpaupack, 48-41. On Wednesday in a rescheduled game, Scranton Prep rallied for a 61-49 victory over Valley View sending the Cougars two games off the pace. Abington Heights remains a game back after crossover wins over Delaware Valley (55-24) and Honesdale (46-34) Wednesday night. On Friday, the Comets host Scranton who gave them one of their two division losses on the season. Also Friday, Scranton Prep hosts West Scranton in what is always a close match-up. Next Tuesday, Abington Heights entertains Valley View who handed them their other loss. Also Tuesday, Scranton Prep visits Scranton.
DIVISION 2
Wallenpaupack (6-2)

North Pocono (3-5)

Honesdale (3-6)

Western Wayne (2-6)

Delaware Valley (2-7)
Wallenpaupack, along with North Pocono and Honesdale all registered impressive crossover wins on Tuesday, but the Buckhorns maintain a three-game lead over the Trojans. Paupack defeated Valley View 48-41, North Pocono got by West Scranton 56-47, and North Pocono got a victory over Scranton, 52-40. On Friday, Wallenpaupack hosts Delaware Valley who is looking to snap a 5-game losing skid. Also Friday, Honesdale entertains Western Wayne is what should be a terrific match-up. Next Tuesday, Paupack hosts Honesdale while North Pocono travels to play Delaware Valley.
DIVISION 3
Holy Cross (6-1)
Lakeland (6-1)
Riverside (6-2)

Mid Valley (4-4)

Dunmore (3-5)
Old Forge (2-6)

Carbondale (0-8)
Holy Cross and Lakeland are currently tied at the top with surging Riverside just a game off the pace. Mid Valley has slipped back a bit following their 62-44 loss to the Vikings Tuesday night. Holy Cross came away with a 40-27 victory over Old Forge also on Tuesday. Friday's schedule is highlighted by the Crusaders and Chiefs battling it out in Dunmore. Should be an overflow crowd on hand for that one. Also Friday, Mid Valley hosts Dunmore. Riverside has an interesting crossover game at home against Division 4 co-leader Mountain View (which does not count in the division standings). Next Tuesday, Lakeland visits Riverside for a big game while Holy Cross travels to Carbondale. Mid Valley will head to play Old Forge.
DIVISION 4
Lackawanna Trail (7-1)
Mountain View (7-1)
Blue Ridge (4-4)
Elk Lake (3-4)

Susquehanna (3-4)

Forest City (2-6)

Montrose (1-7)
Mountain View has been red-hot of late. The Eagles topped Lackawanna Trail at home on Tuesday, 61-42, as the they grabbed onto a share of first place. On Friday, the Lions host Forest City while Mountain View plays a crossover game at Riverside. Next Tuesday, Mountain View entertains Elk Lake in what should be a good match-up. Also Tuesday, Lackawanna Trail visits Montrose.
District 2 Boys Top Seeds
(games through 1/29)
AAAAAA
Hazleton Area (13-5)

Wilkes-Barre Area (9-9)

Scranton (8-8)

Williamsport (6-11)
AAAAA
Wallenpaupack (15-2)

Dallas (14-4)

Pittston Area (12-6)

Crestwood (13-5)
AAAA
Scranton Prep (15-3)

Valley View (13-5)

Tunkhannock (13-5)

Western Wayne (8-9)
AAA
Wyoming Seminary (16-2)

Lakeland (14-3)

Holy Redeemer (12-5)

Riverside (11-6)
AA
Holy Cross (15-2)

Lackawanna Trail (11-6)

Old Forge (7-9)

Elk Lake (8-9)
A
Nativity BVM (12-6)

Tri-Valley (10-8)

Notre Dame (8-9)

Weatherly (8-10)
7. MMI Prep (2-13)
Follow LLhoops on Twitter @LLhoops
---
Leave a Reply