District 2 Girls Game Recap (Dunmore vs. Riverside)
Written by: Jon K on Saturday, January 18th, 2020
January 17, 2020
Dunmore Surges Past Riverside
Dunmore Lady Bucks 50, Riverside Lady Vikings 36
DUNMORE – Lady Bucks' hoops may not always run like a finely tuned Lamborghini, but their 8-0 run in the final 99 seconds of the third period broke open a close (29-25) matchup and propelled the perennial Lackawanna League Division 3 powerhouse to an impressive 50-36 victory over previously undefeated Riverside. This one featured an outstanding defensive effort by both squads and a level of scrappiness which leaves fans wondering if a rugby match was about to break out. Both of these teams have exceptional talent and are very well coached.
Junior guard Alexis Chapman's triple gave Dunmore an early 7-4 lead. A pair of smooth jump shots by Riverside senior center Leah Hodick wrapped around a pair of free throws by Dunmore's 6-2 freshman Ciera Toomey gave the Lady Bucks a 9-8 edge going into the second period. After Bella McKeefery hit a free throw to tie it at 9, Emily Taylor (Riverside) and sophomore guard Moriah Murray (Dunmore) then combined to hit 5 triples as the Lady Vikes cut it to 19-18. The first half ended with a basket by junior guard Anna Talluto (Dunmore), a pair of free throws by sophomore guard Kylie Lavelle (Riverside), and a Toomey score at the buzzer to put Dunmore ahead, 23-20.
The second half began at a slower pace with neither team getting on the board for the first two minutes. A pair of treys by Dunmore sophomore guard Mia Blume sandwiched around an "and 1" by Riverside junior guard Alese Karpinski gave the Lady Bucks a 29-23 lead. Holick scored to cut it 29-25. And that's when Dunmore's 8-0 power burst got rolling – a nifty scoop layup and free throw by junior guard Elisa Delfino, a basket by Tallutto, and a buzzer-beating 30-foot triple by Murray. And that quickly, the score ballooned to 37-25. The Lady Bucks were able to keep their advantage in double digits the rest of the way for a 50-36 win.
Dunmore was led by Moriah Murray with 17 points, Ciera Toomey netted 12 while Mia Blume (3 triples) and Anna Talluto combined to score 15.
Riverside was paced by Emily Taylor with 11, Leah Hodick added 10 points, and Kylie Lavelle contributed 9 points.
Kudos to both student cheering sections. Plenty of loud, creative support made the sellout game atmosphere something special.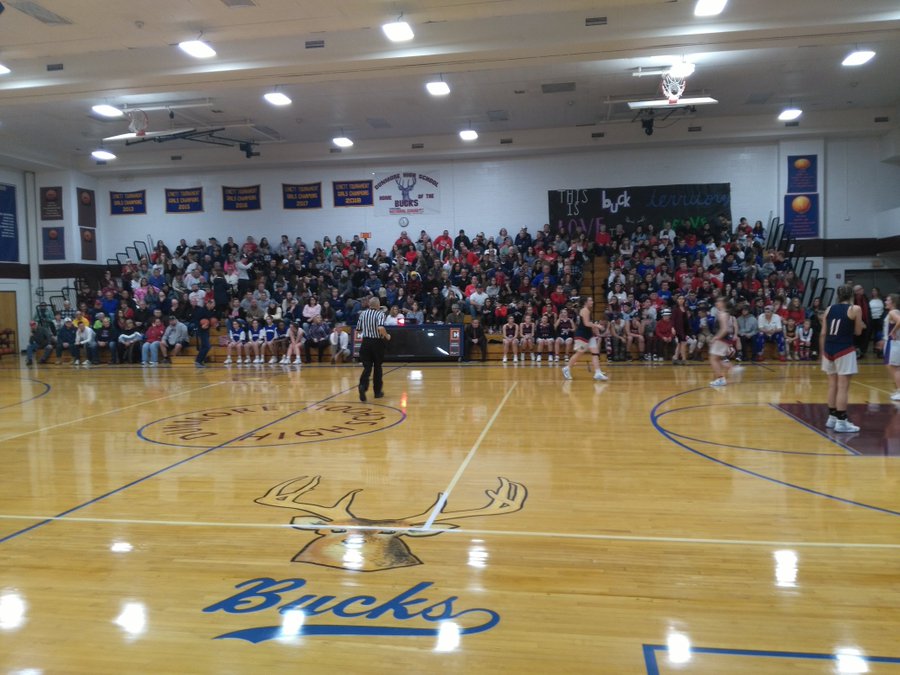 Follow LLhoops on Twitter @LLhoops
---
Leave a Reply